Some argue that space exploration is incredible, but why travel there when there are immense seas still to be discovered? Over 80% of our ocean is thought to be unmapped and undiscovered, so why not try?
There are folks out there that are doing just that. The winners of Scuba Diving Magazine's 2020 Through Your Lens Underwater Photo Contest have been revealed. This year's hall of fame competition will include 13 amazing winning photographs as well as a handful of honorable mentions.
Hot Flav encourages you to peep through the camera lens at some of the most unusual looks into the aquatic world. While you're there, make sure to leave a comment on your favorites.
#1 Martin Strmiska of Styria, Austria, received an honorable mention.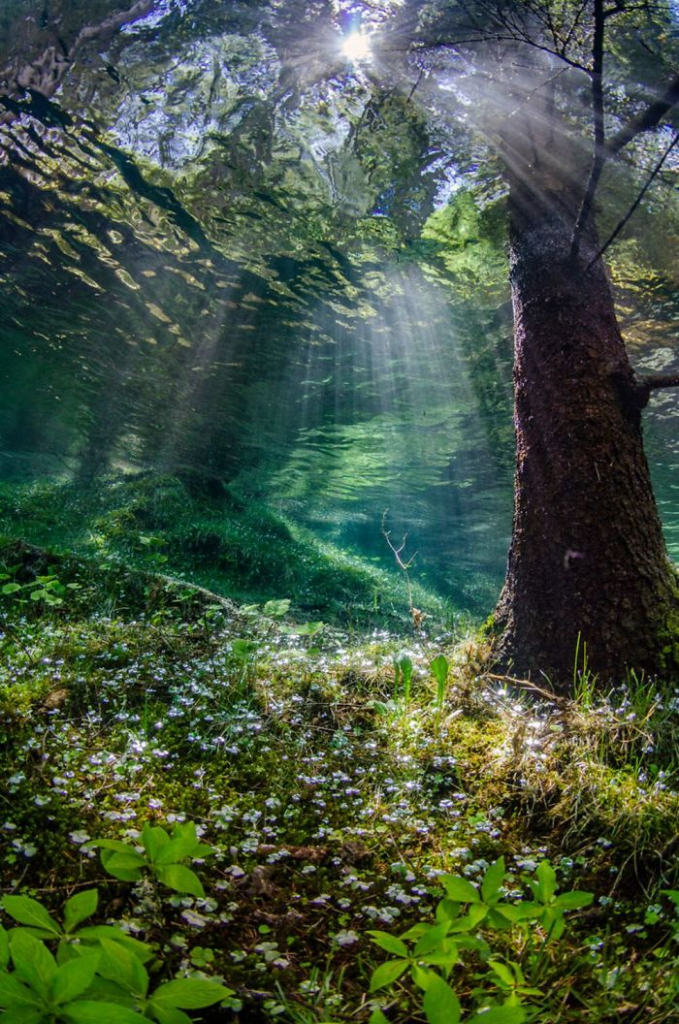 "While the mountain summits around Tragoess are still covered in snow in early spring, the meadow along Grüner See (Green Lake) flowers.
Only later in the season, when nighttime temperatures do not dip below freezing, does the snow melt and flow down the streams, filling the lake with crystal-clear water.
The meadow, with newly blooming flowers and lush green grass, is flooded, creating a magnificent underwater park for the next two months."
#2 Evans Baudin of Baja California, Mexico, was the grand prize winner.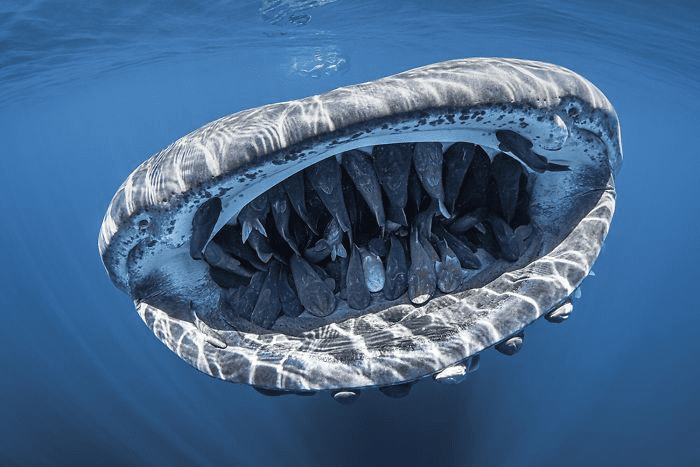 "With special authorization, I went on an excursion in June 2020 to photograph marine life and the consequences of decreased maritime traffic caused by COVID-19. Our boat skipper exclaimed, "Whale shark, just behind you!" after two hours in the sea with a school of silky sharks at the surface. The amazement was doubled when I found over 50 remoras quietly riding in her mouth!"
#3 Chris Gug of Bonaire received an honorable mention.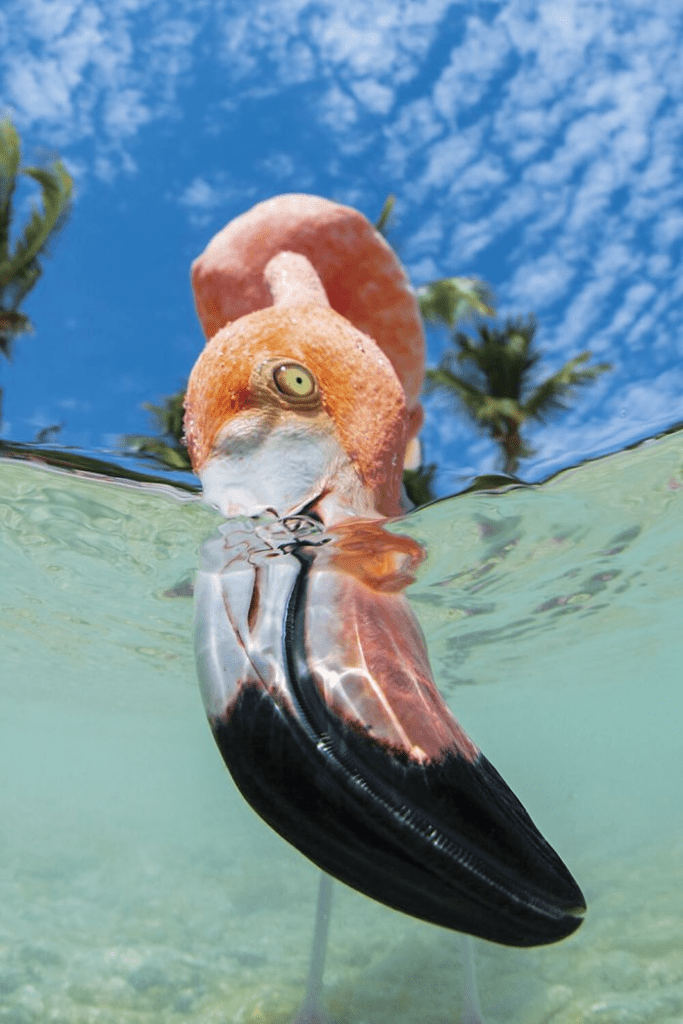 Scuba Diving Magazine is hosting a picture contest called Through Your Lens. 2020 is the 16th year of the organization's celebration of all things oceans and seas. With almost 2,600 picture entries this year, the competition likewise has the biggest number of submissions in its history.
The jury chose 13 winning shots and 15 honorable mentions from 2,636 submissions in four contest categories: Behavior, Compact Camera, Macro, and Wide-Angle.
"Among the 2,636 photographs submitted this time […] were shots that stretched the limits of our four contest categories and sometimes left judges wondering how in the world someone was able to pull off the shot," the website continued.
#4 Tobias Friedrich, Anilao, Philippines, won first place in the compact camera category.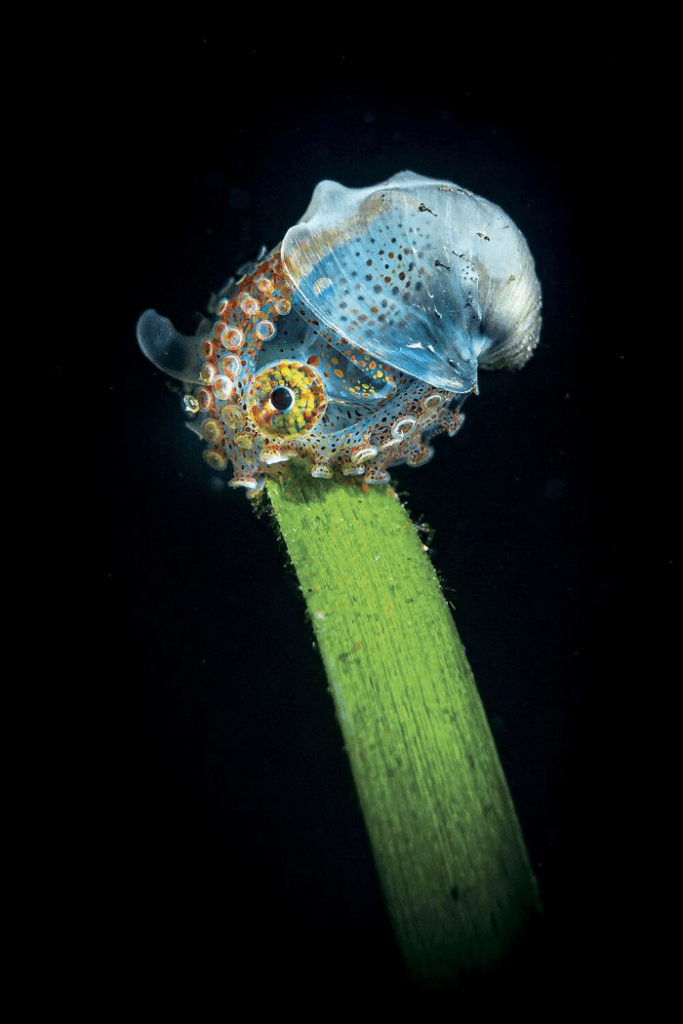 #5 Honorable Mention: Marc Hanauer, Amorgos Island, Greece.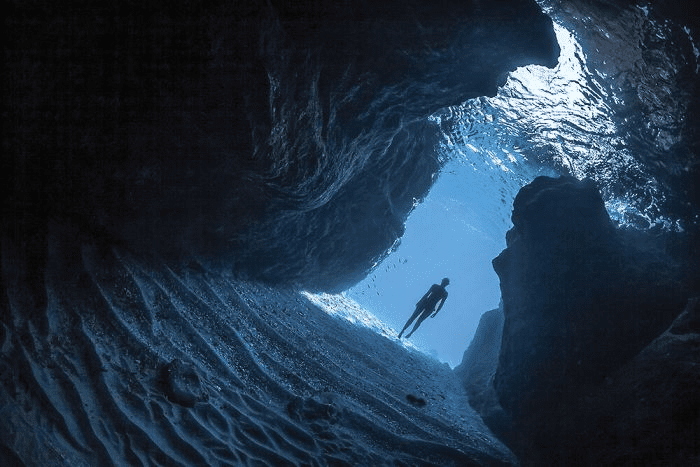 #6 Honorable Mention: Massimo Georgette, Jardines de la Reina, Cuba.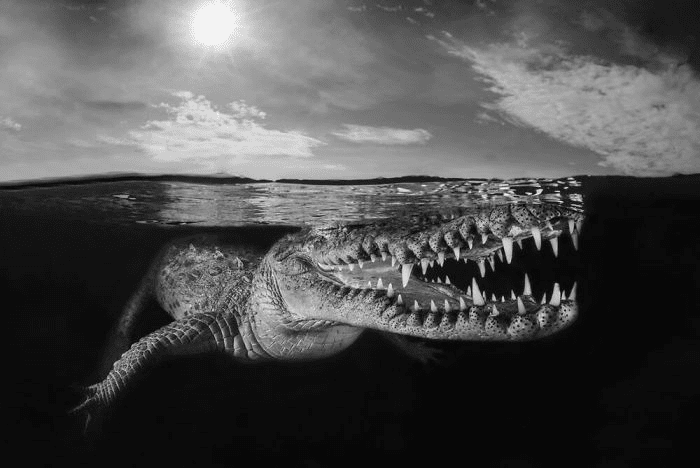 Evans Baudin snapped a spectacular picture of a school of remoras relaxing in the mouth of a 12-plus-meter female whale shark in Baja, California, Mexico, this year's top prize winner.
The first prize winners in the other four categories are as follows: Jules Casey with a photo of a shorthead seahorse feeding at Port Phillip Bay, Australia (Category: Behavior); Tobias Friedrich with a photo of a juvenile wonderous on a palm leaf in Anilao, Philippines (Category: Compact Camera); Jeffrey Haines with a photo of a seahorse in a clump in West Palm Beach, Florida (Category: Macro (Category: Wide-Angle).
#7 Enrico Somogyi, Anilao, Philippines, came in third place in the Compact Camera category.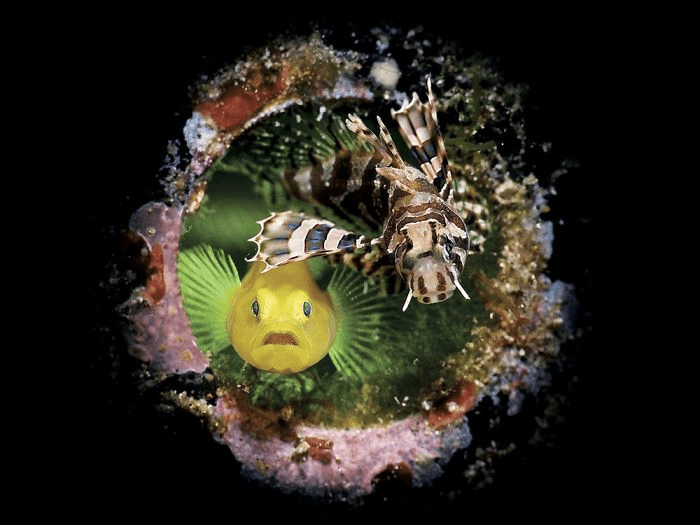 "My spotter pointed out an apparently empty beer bottle near the beach while diving at Anilao, the Philippines' macro capital. But something was alive within. I began photographing the lemon goby that was residing there. After a time, I observed a shadow in the background, and then I saw the baby lionfish emerge. I pressed the shutter just as the goby began to yawn and the lionfish glanced into the camera."
#8 Martina Andres, Red Sea, received an honorable mention.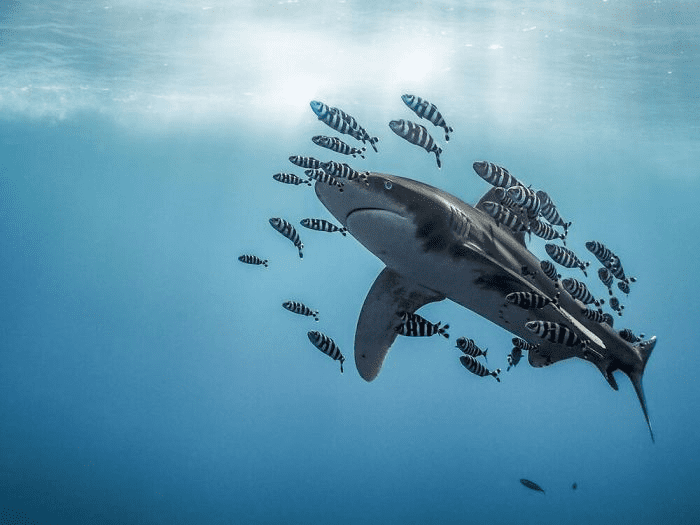 "As a diver, you will never forget your first encounter with a large shark. I will be immensely glad to have encountered this magnificent oceanic whitetip shark in the Red Sea. As we approached the end of our dive, she and her "entourage" carefully circled our group, contentedly gazing at each and every one of us, before taking off into the blue again."
#9 Robert Stansfield, Banco Chinchorro, Mexico, took third place in macro.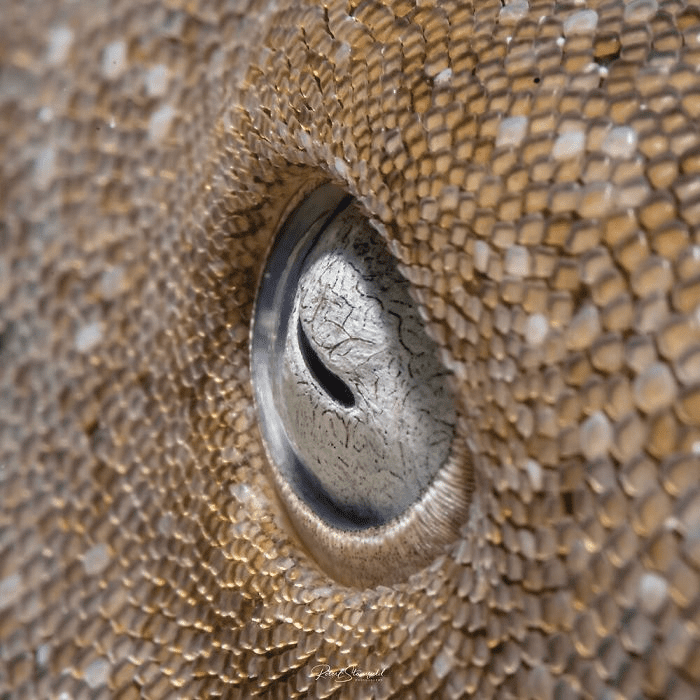 As previously said, this isn't the first time the competition has taken place, so if you're curious, you can also view last year's winners here and the winners of 2018 here.
If you want even more underwater photography awesomeness, check out Bored Panda's coverage of the 2020 Underwater Photographer of the Year contest.
#10 Marcelo Johan Ogata, Lembeh Strait, Indonesia, took second place in Compact Camera.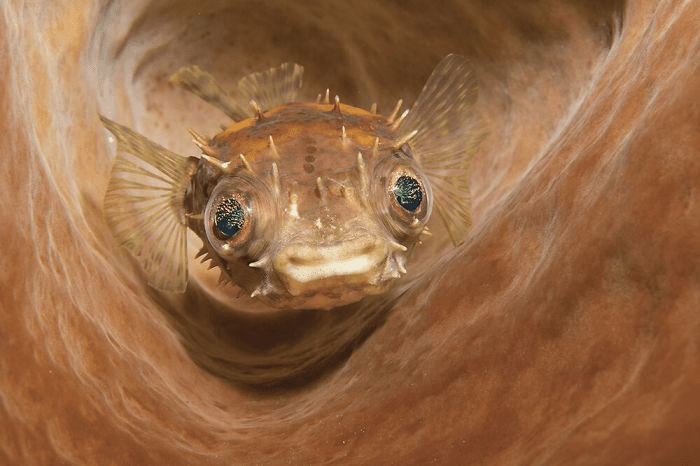 "Have you ever got the impression that a fish is mocking you? The most amusing aspect of this dive was that it took me a long time to see there was a porcupinefish within the barrel sponge! I was hunting for hairy squat lobsters on the sponge when I saw this camouflaged fella going away from my camera with a grin on his face!"
#11 Martin Strmiska, Puerto Morelos, Mexico, won first place in wide-angle.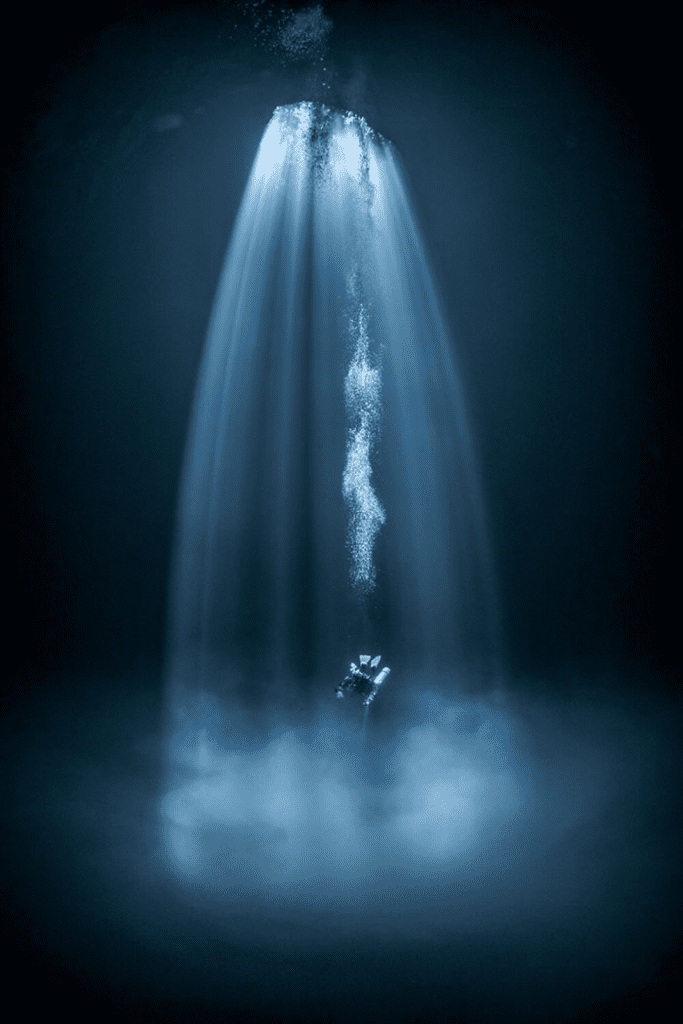 "I had no notion what lied under the little lake on the surface at the cenote's entrance. The black void was exposed only when I descended and positioned myself beyond the area illuminated by the sun. When my eyes acclimated to the darkness, I saw the vastness of the area. My partner, suspended above the cloud and illuminated by the sun's rays, seemed so little that I spent the whole dive photographing from afar, attempting to catch the tiny diver in that vast area."
#12 Raffaele Livornese, Baja California, Mexico, took third place in wide-angle.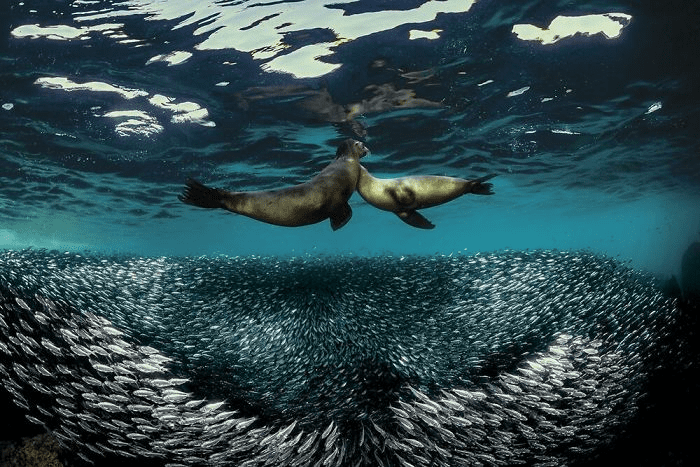 "I shot this photo in Baja California in October. It took a few days for me to get trust in the water and the creatures that dwell there since it was my first visit there. I was quite fortunate because there were a lot of sardines schooling there at the time, so the sea lions were continuously playing and hunting them. I spent a long time floating at a shallow depth, waiting for the proper moment to press the shutter. When it came, I saw two sea lions swimming away from each other, then toward each other. To evade the chase, the sardines moved in the same manner, so they made two parallel lines, and I grabbed it."
#13 Thomas Van Puymbroeck, Marsa Alam, Egypt, came in third place in behavior.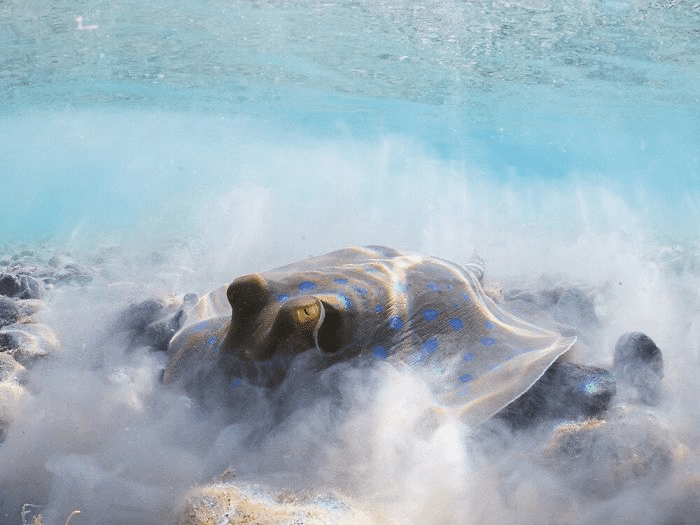 "This photograph was captured in very shallow water. We couldn't resist the draw of the ocean while on vacation, so my wife and I went snorkeling every morning. A large amount of silt grabbed my eye one day. This lovely stingray emerged in the silt. Because the silt was spreading everywhere, I only had a little opportunity to photograph. The stingray was munching on little sand animals. The light vanished after a few seconds, and we proceeded to enjoy the lovely Red Sea and our honeymoon."
#14 Enrico Somogyi, Anilao, Philippines, received an honorable mention.
#15 Yury Ivanov, Bali, Indonesia, took second place in Macro.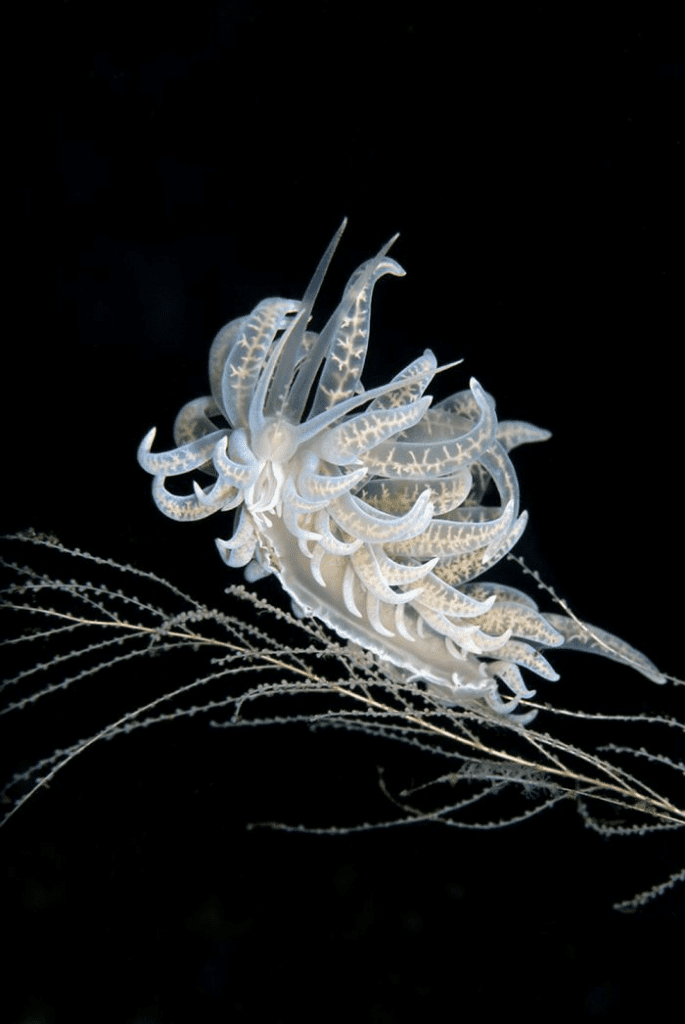 "These nudibranchs are one of my favorite underwater picture models. I refer to them as "snow queens" or "the dazzling hues of the sea." Phyllodesmium iriomotense is found here eating one of its favorite foods, slender gorgonian coral. This image was captured at a depth of 32 meters (105 feet). At that depth, the time permitted for shooting is quite restricted, therefore I had to do four dives to acquire this shot."
#16 Marc Henauer, Amorgos Island, Greece, took second place in the wide-angle category.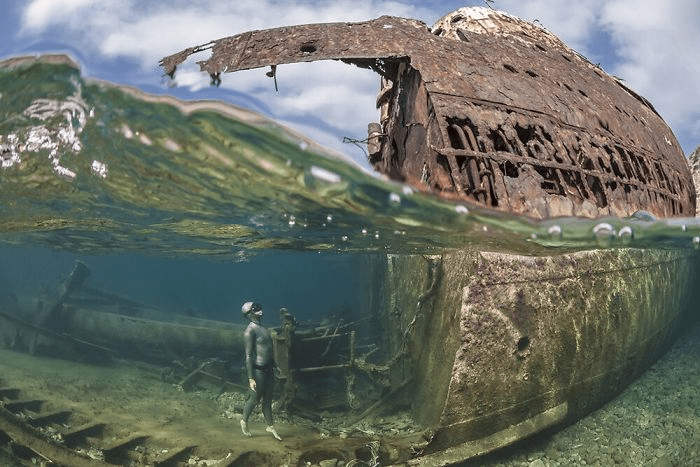 #17 Enrico Somogyi received an honorable mention.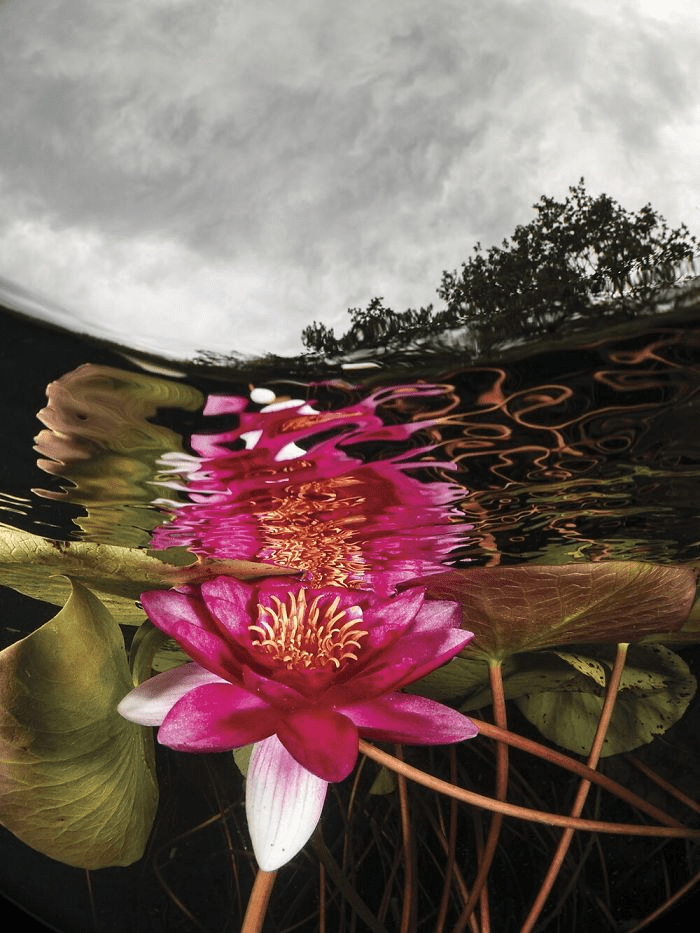 "The Olympia shipwreck may be seen in Luc Besson's 1988 film The Big Blue. It capsized on the beach of Amorgos Island in Greece. The key to this picture is synchronization. To succeed, a beam of sunshine had to illuminate the underwater scene, then a wave with the appropriate angle on the dome to provide a decent view above and below, and lastly, the freediver had to maintain a position facing the wreck. It needed a lot of practice."
#18 Andrey Shpatak, Sea Of Japan, received an honorable mention.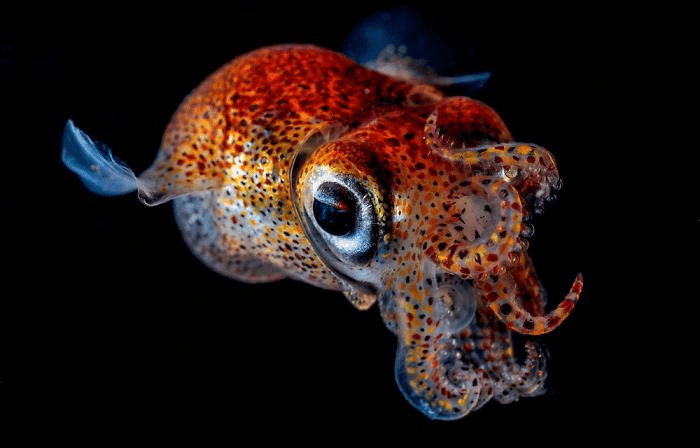 "Sepiola birostrata is one of two cuttlefish species found in Japan's northern Sea. It lurks on the sandy bottom throughout the day and can only be discovered by accident. But it goes hunting at night. These cuttlefish are predators, hunting shrimp and crabs despite their tiny size [about an inch]. In July, there are generally a number of them above the sandy bottom, at depths ranging from 15 to 40 feet. I met this lovely lady while diving at night. Its hue was really stunning."
#19 Sean Steiniger, Ha'Apai Island Chain, Tonga, received an honorable mention.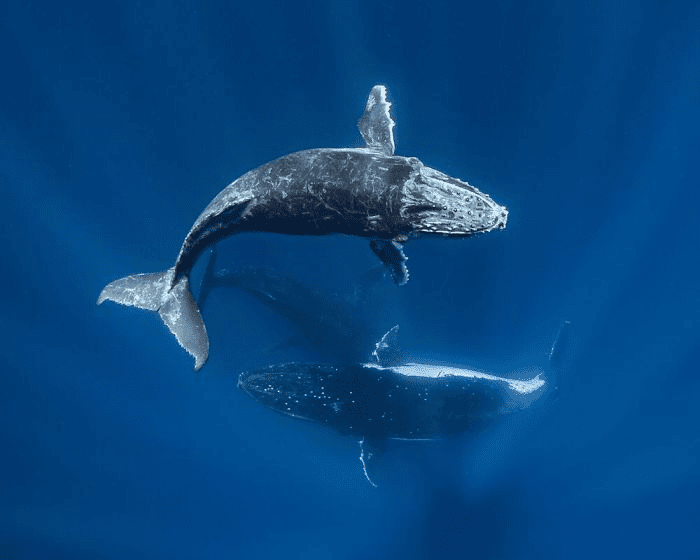 "A humpback whale calf floats over the emerald-blue seas of Tonga, closely followed by its giant mother and entourage. As the leviathans circle just under me, the calf ascends toward the surface for fresh air, and I tuck back my freediving fins and shoot the photo."
#20 Lureen Ferretti received an honorable mention.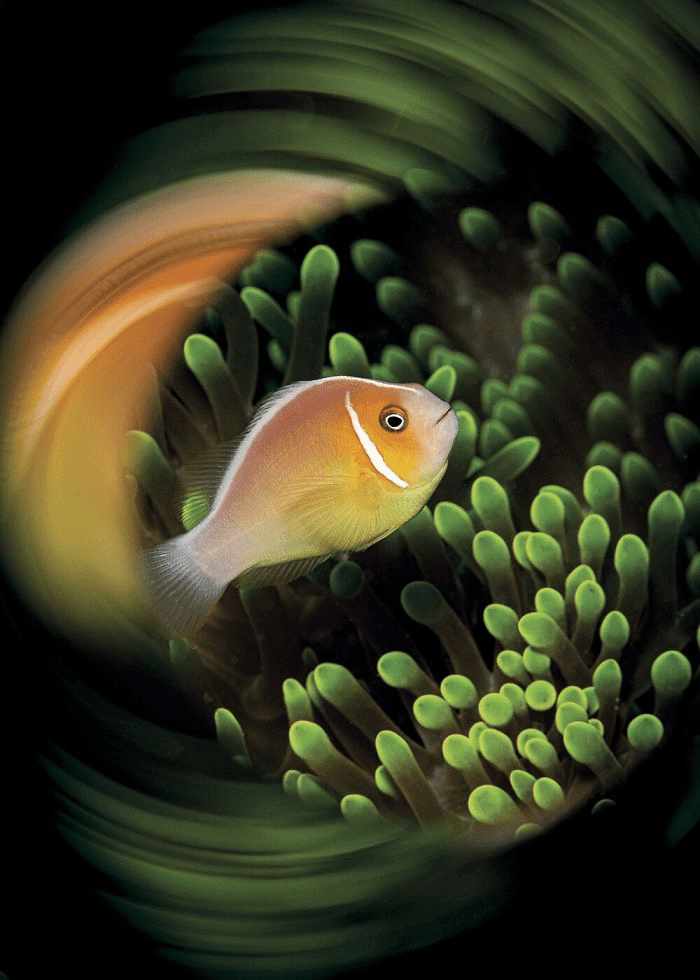 #21 Dennis Whitestone, Palm Beach, Florida, received an honorable mention.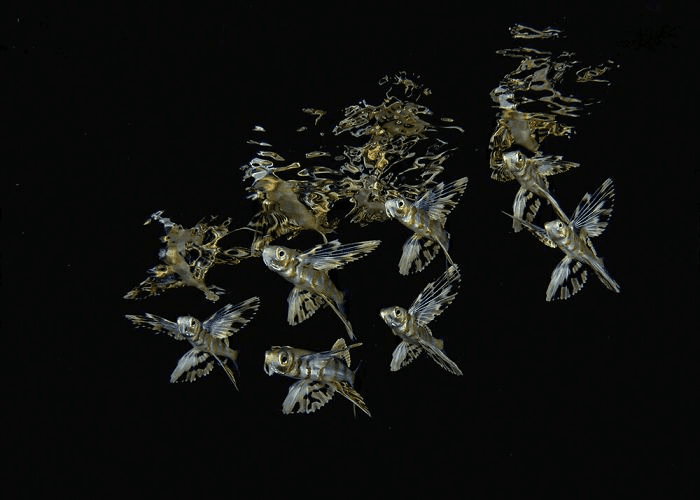 "This flying fish photograph, "Squadron," was obtained on May 31, 2020, while diving near a patch of sargassum only a few feet below the surface with Walker's Dive Charters in Palm Beach, Florida. My dear buddy Lazaro Ruda alerted me as I was entering the water that there was a school of flying fish on the surface. I was able to grab the shot in a matter of minutes."
#22 Jules Casey, Port Phillip Bay, Australia, won first place in behavior.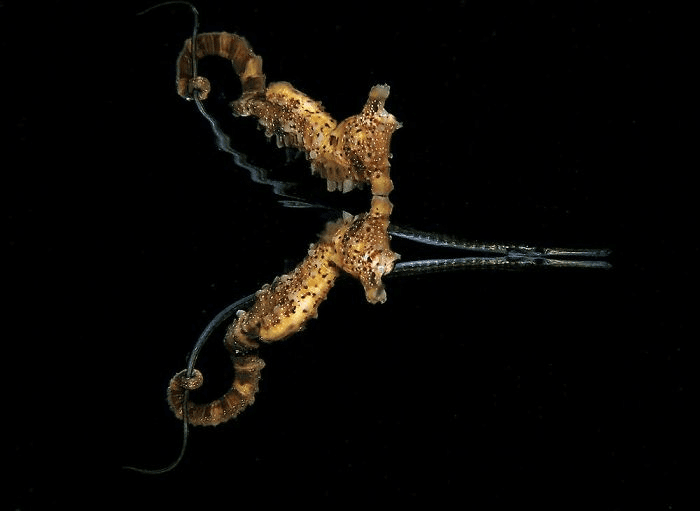 "This shorthead seahorse was eating on the surface and freely moving from one floating patch of weed to the next during a daylight dive at Blairgowrie Pier in Port Phillip Bay, Australia. I'm not sure whether the seahorse accidentally caught the pipefish with its tail, mistaking it for a bit of weed, or if this was done on purpose. The pipefish battled instantly to release itself from the seahorse's grasp. This contact lasted approximately 10 seconds, just long enough to set up the picture."
#23 Franco Tulli received an honorable mention.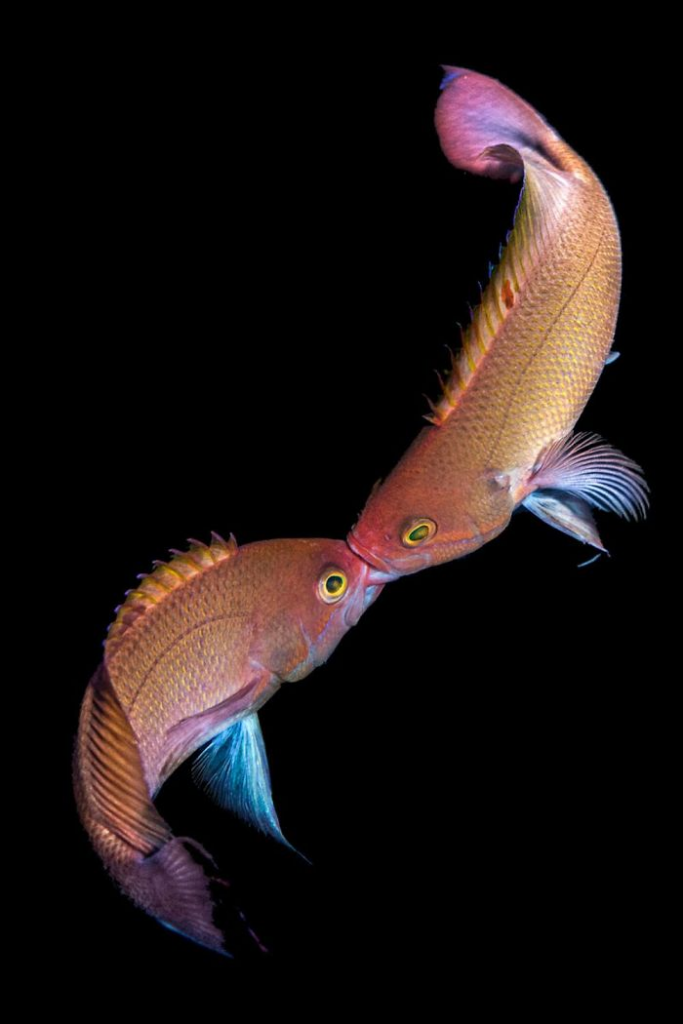 "Pseudanthias are mostly females and non-territorial males, although at certain periods of the year, other males may be seen fighting for territory and defending their harems."
#24 Jeffrey Haines, West Palm Beach, Florida, won first place in macro.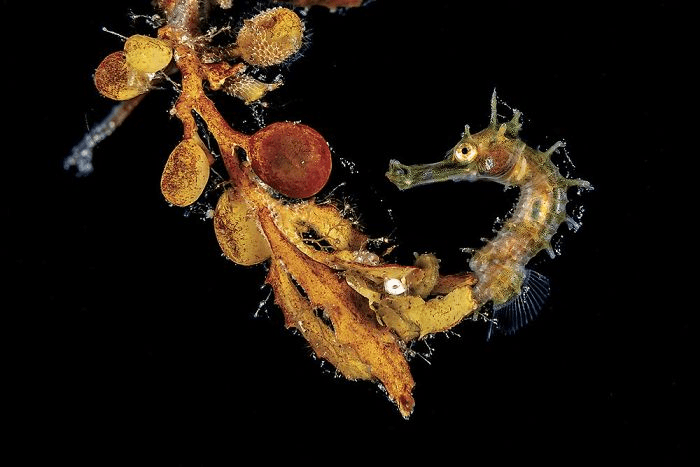 "When you go on a black-water dive, you never know what you'll discover. It may be small larval fish one night, a mako or silky shark the next, but you're usually looking for little things as you drift along with the current over deep water. Persistence and attention are essential for locating your topic as you float along. I began to see little clumps of sargassum drifting past around 45 minutes into my 90-minute dive, which is always an exciting sight on a black-water dive. This seahorse was discovered in the third cluster I studied."
#25 Jerry Arriaga, Ambon Bay, Indonesia, came in second place in the Behavior category.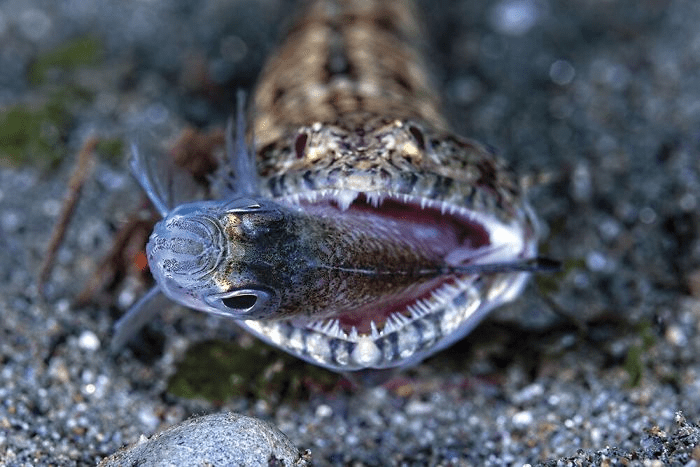 "We were diving in Ambon Bay's spectacular mud. At Laha, one of my favorite dive spots in the region, I was swimming underneath the fishing boats. I saw the lizardfish darting from its rock perch out of the corner of my eye. It was lightning quick, like a torpedo! I moved closer to the lizardfish, which was holding a damselfish in its jaws. I took this photo shortly as the lizardfish swam away with its nice dinner."
#26 Renata Romeo, Sharm El Sheikh, Egypt, received an honorable mention.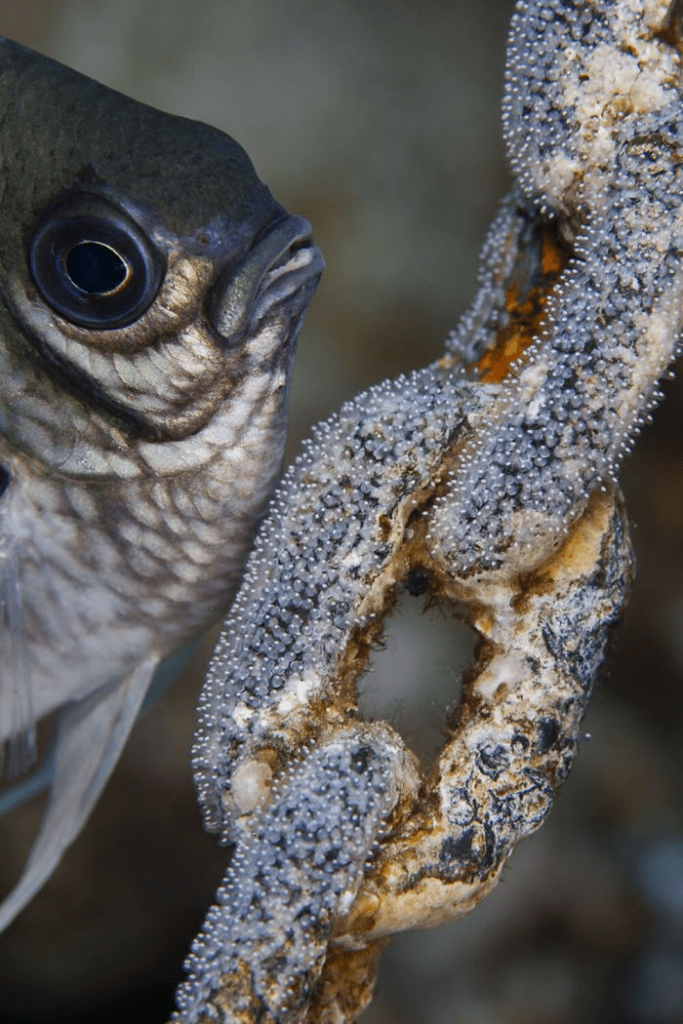 "A tiny colony of American crocodiles dwells amid the mangroves on this Cuban archipelago. To create a sequence of images, I had to spend three days in the water with them, observing the currents, the light, and the purity of the water. Then I waited till the crocodile was positioned correctly against the lighting. The goal was to maximize the contrast between the sun's reflection and the hue of the water."