Star Balloon-Bradley and her nephew Isaiah attended a Valdosta-based Lowdnes High School football game when Isaiah greeted a stranger.
Two weeks ago, Isaiah approached a woman during our last home game. He sat on her lap and chatted like old friends for about 20 minutes.
During halftime, Bradley stated that the woman had left the game. However, two weeks later, Isaiah saw the same woman at a different football game.
Isaiah happily walked towards the lady, then crawled onto her lap and rested his head on her shoulder. The lady was very welcoming and kind to Isaiah. She patted and rocked him until he fell asleep as a mother would. It was a very heartwarming moment!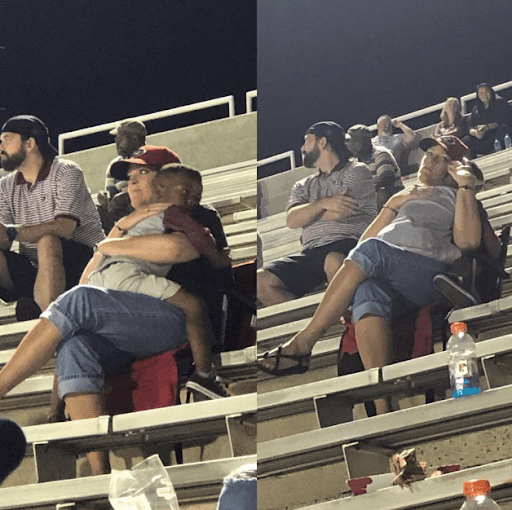 Bradley and Miller asked a woman if Isaiah was causing any trouble. The woman replied that Isaiah was her new friend and that there was no issue.
The lady mentioned that she has only one child, who is 15 years old, and experiences like this are very precious to her. It's great to see such pictures during racial tensions, as they demonstrate that people's skin color doesn't matter to many of us.
Bradley posted two heartwarming pictures of a cute meeting on Facebook. Her post has received over 742,000 likes and 241,000 shares.
Bradley used social media to find and discover the identity of the woman, whom he referred to as "Mrs Angela."
Mrs. Angela shared the following after the Facebook post went viral:
"To God be all praise, glory, and honor! I have been overwhelmed with emotions today as I have read the post Star Balloon-Bradley shared. I am humbled by the kind words everyone has spoken. Isaiah is absolutely adorable! I pray people will Jesus in all this & know His love is beyond measure & that is how I want to love & life my life. I'm not worthy but He sure is!"