Even if recent events in our lives have led you to believe differently, bats are truly magnificent animals. For starters, they are the only animals that can excel at flying! Furthermore, bats account for one-quarter of all mammals. There are over 1,300 species, so you can only imagine how many there are on the planet. And if you assume all those animals are up to no good, you're dead wrong. In fact, many of them help to make our world a better place for everyone to live. Bats, for example, are great pest exterminators. They assist farmers in reducing pesticide use by nibbling on different insects. Scientists believe that bats save between $3.7 and 54 billion in pest management services in the United States each year. Fewer pesticides imply less pollution in the environment and more food for us.
There's more to make you admire bats if that's not enough. Many of the bats out there consume nectar and thereby pollinate plants. They pollinate around 700 plants, many of which are used for medicine and food. Fruit bats are also crucial for seed dissemination, which aids in forest regeneration. Each year, researchers estimate that one square meter of rainforest floor may hold 12-80 bat-dispersed seeds. Not to mention that scientists have examined the chemical in vampire bat saliva and utilized it to make medication to aid people suffering from blood clots and strokes.
Another fascinating fact about bats is that these flying mammals may live for a very long time. One of the reasons is that they can withstand viruses, but they carry a lot of them. Many viruses that infect people, such as Ebola, rabies, and the SARS-CoV-2 variant of the virus that causes COVID-19, have been named after bats. Although it's tempting to believe that we've discovered the source of all our woes, bats aren't to blame. We can only blame ourselves, according to epidemiologist and bat researcher Sarah H. Olsen. "COVID-19 is not the fault of the bats themselves. Viruses found in wild bats that have not been disturbed pose no hazard to human health. This overflow is caused by human behaviors and activities that cross natural limits "According to the expert.
While it is still unknown how the virus spread, we do know one thing: it did not happen without human assistance. Scientists believe that disrupting animal habitats is typically what promotes the spread of zoonotic illnesses (those passed from animals to humans). Increased interaction with wildlife may result in the spread of even more lethal zoonotic illnesses. So, as long as we keep our distance, bats pose no hazard to people.
If the risk of lethal diseases isn't enough to convince us to leave them alone, consider this. Some of these creatures are quite terrifying. From terrifying vampire bats to strange-looking horseshoe bats, these creatures are enough to frighten even the bravest. If you're ready to learn about the not-so-cute species of bats, check out the list below!
#1 Fruit Bat with Epauletted Buettikofer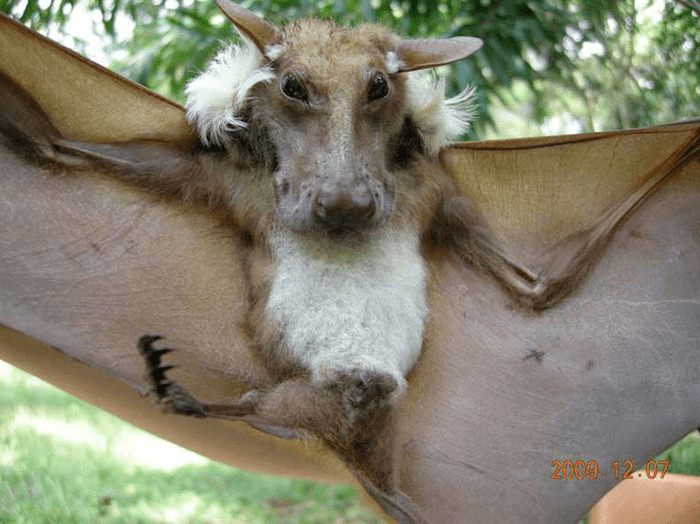 This is a bat, not a dog, despite its appearance. So there will be no pets for this excellent guy! Buettikofer's epauletted fruit bat is a megabat species found in the Ivory Coast, Ghana, Guinea, Guinea-Bissau, Liberia, Nigeria, Senegal, and Sierra Leone.
#2 White Honduran Bat.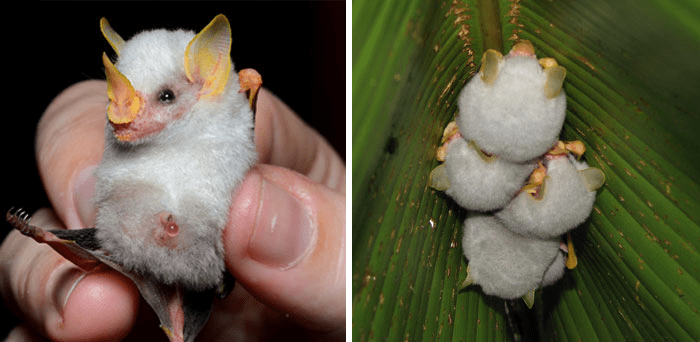 Honduran white bats are the name given to these fluff balls. They may be found in eastern Honduras, northern Nicaragua, eastern Costa Rica, and western Panama's lowland rainforests. Honduran white bats have a thin black membrane on top of their head that is thought to shield them from UV rays, similar to sunscreen.
#3 The Pied Bats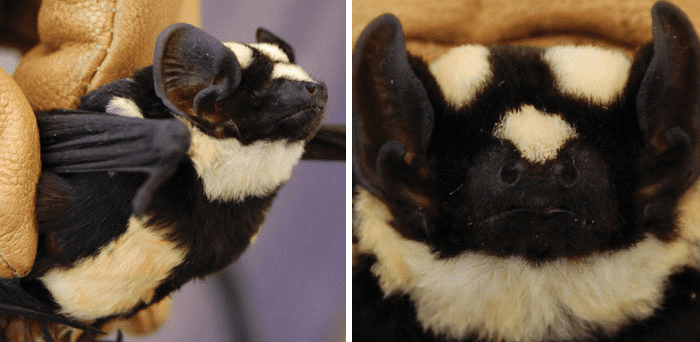 The pied bat or badger bat resembles a bee, and some even compare it to a panda. These little cuties are not only rare but also one-of-a-kind. "Its cranial characteristics, wing characteristics, size, ears—everything about it doesn't suit. It's so distinct that we need to form a new genus for it "DeeAnn Reeder, one of the species' discoverers, stated.
#4 Golden-Crowned Giant Flying Fox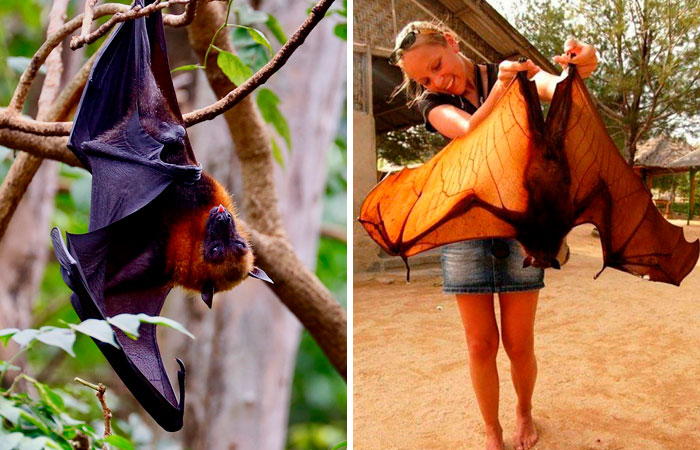 While this bat is adorable and may not totally belong on our list, there is something odd about it. It is enormous. And we're talking about big in the human baby-sized range. Flying foxes have a wingspan of 5 feet (1.5 meters) and a body length of 11 to 13 in (27 to 32 cm). Indonesia, Malaysia, China, Myanmar, the Philippines, Singapore, Vietnam, Timor-Leste, and Thailand are their native countries. The viral one in the image was photographed in the Philippines.
#5 Bat with a Hammerhead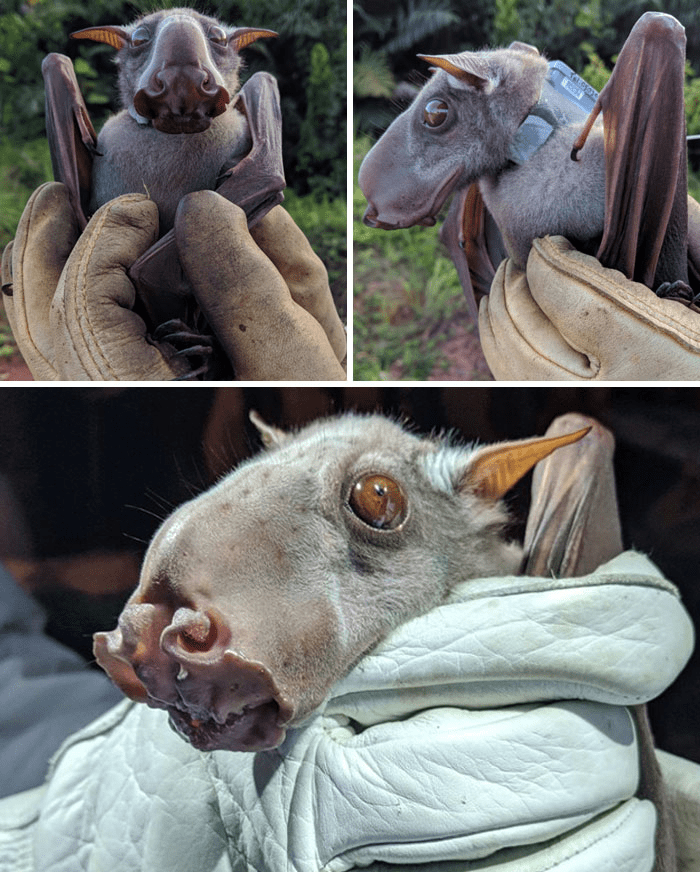 Despite their intimidating look, hammer-headed bats are perfectly harmless. They live in equatorial Africa and eat fruits. If you're wondering what's up with their faces, it's because they have big resonating chambers that create vocalizations to attract females, hence only males appear like this.
#6 The Yellow-Winged Bat.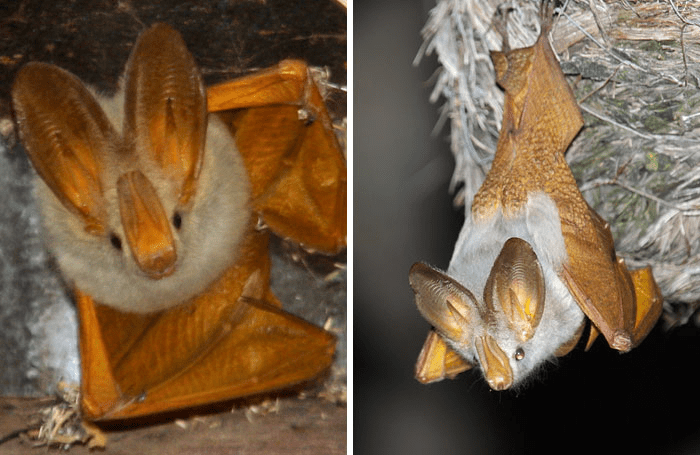 While we usually associate bats with gloomy colors, this bogus vampire bat proves us wrong. The yellow-winged bat lives in Africa's wet lowland forests and savannas. It feeds on a variety of insects.
#7 The Spotted Bat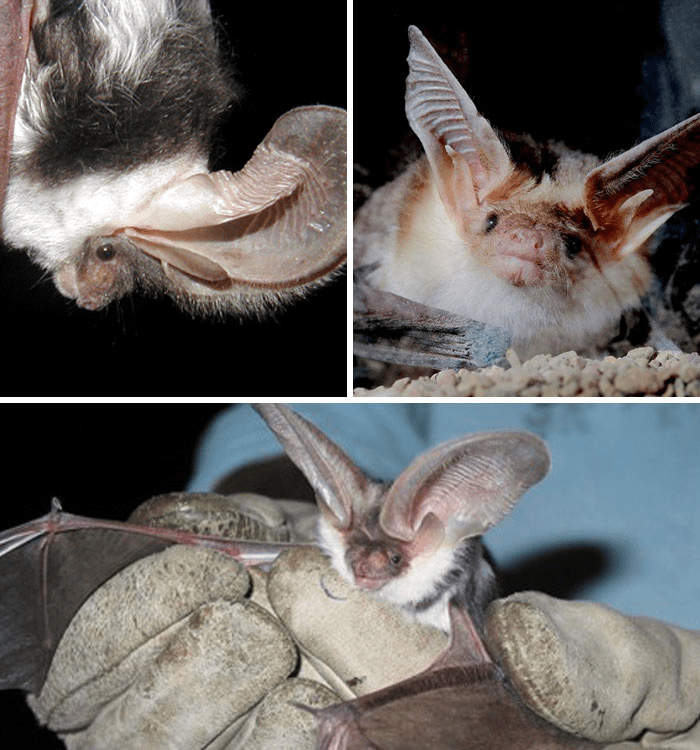 The term "spotted bat" comes from three conspicuous white spots on its black back. It possesses the biggest ears of any bat species in North America, measuring over 4cm in length.
#8 A little white-shouldered bat.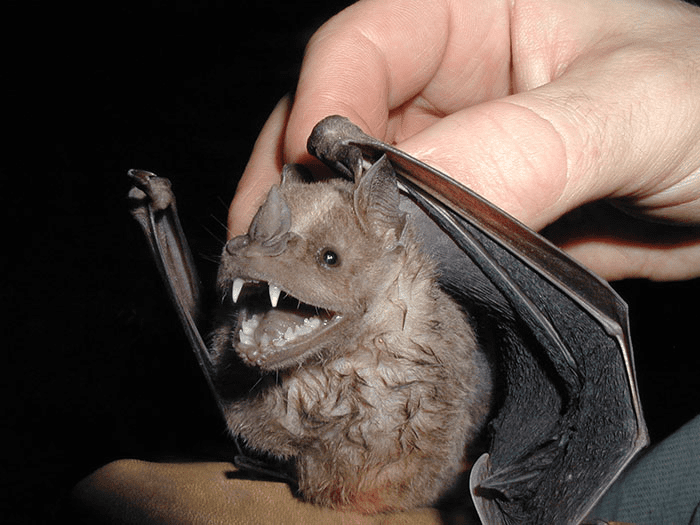 Despite its terrifying appearance, the small white-shouldered bat is a fully harmless species that forage from the forest floor to the canopy and feeds on fruit. They are native to South and Central America.
#9 The Big-Eared Bat of Rafinesque.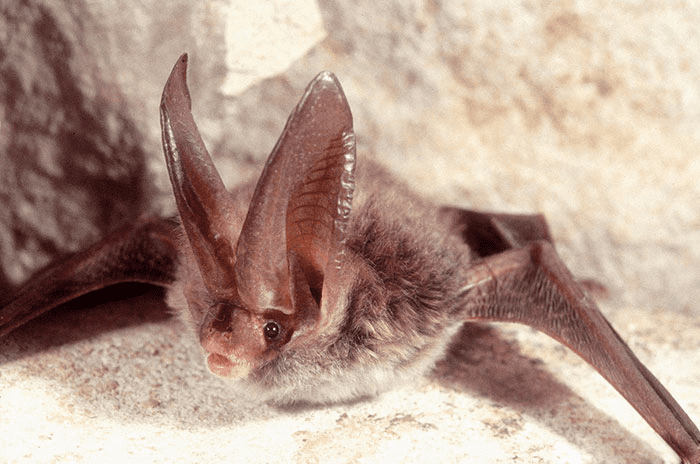 Rafinesque's big-eared bat is the name given to this unusual little darling. Most of the south-central and southern United States is home to these bats with rabbit-like ears. They love to consume insects and have long lives. A Rafinesque's big-eared bat's longest reported lifespan was 10 years and one month.
#10 Free-Tailed Chapin's Bat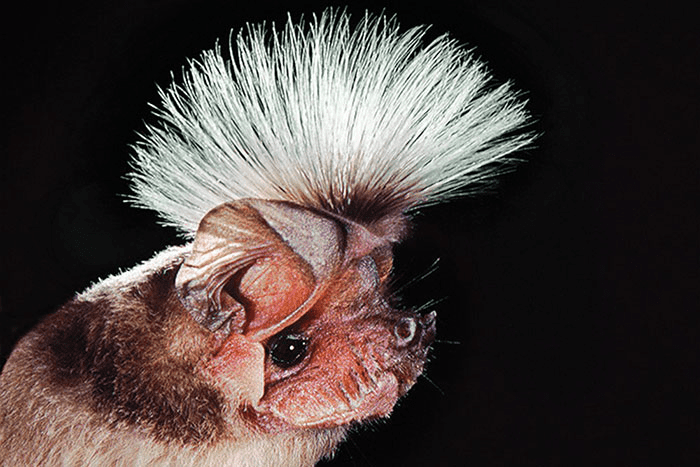 Chapin's free-tailed bat is the name given to this mohawk-rocking bat. Its most distinguishing characteristic is a crest of hair on top of its head, which is especially prominent in breeding males and aids in the dispersal of fragrance from a gland at its base. These bats are found throughout central and southern Africa.
#11 Tube-Nosed Eastern Bat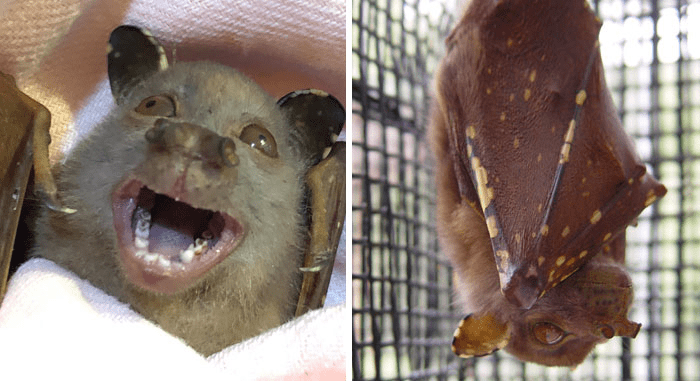 This little fella isn't the prettiest, but he's definitely sweet. Look at those little toothpicks! This eastern tube-nosed bat is native to Australia and feeds primarily on fruit.
#12 Long-Eared Desert Bat.
The desert long-eared bat is a fluffy nightmare fuel found in North Africa and the Middle East. These ferocious bats have been observed devouring scorpions, even the deadly Palestine yellow scorpion.
#13 Free-Tailed Wrinkle-Lipped Bat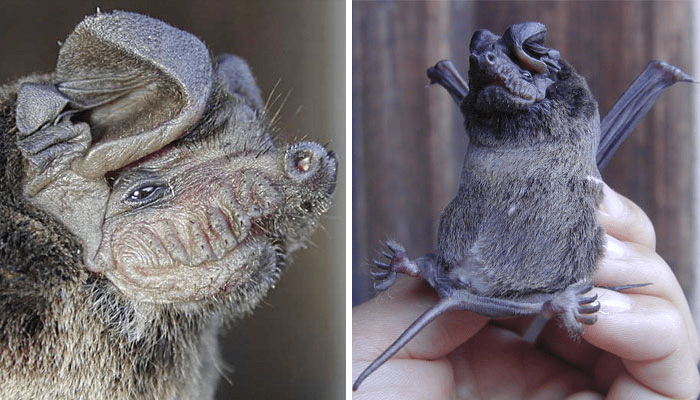 This smug-looking gentleman has much to be proud of. Scientists believe this insectivorous bat might be used as a biological pest control tool. Bangladesh, Bhutan, Cambodia, China, the Cocos (Keeling) Islands, India, Indonesia, Laos, Malaysia, Myanmar, Nepal, the Philippines, Sri Lanka, Thailand, and Vietnam are all home to this species.
#14 The Hairless Bat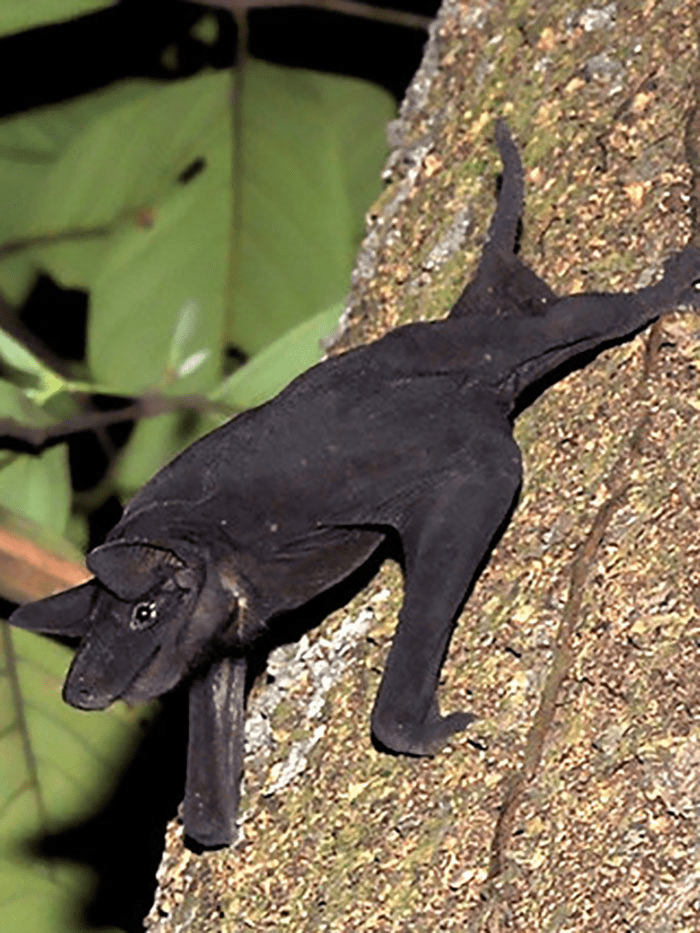 Not all bats are hairy, as it turns out. Consider the hairless bat, which lives in Southeast Asia and Oceania.
#15 Roundleaf Bat of Pendlebury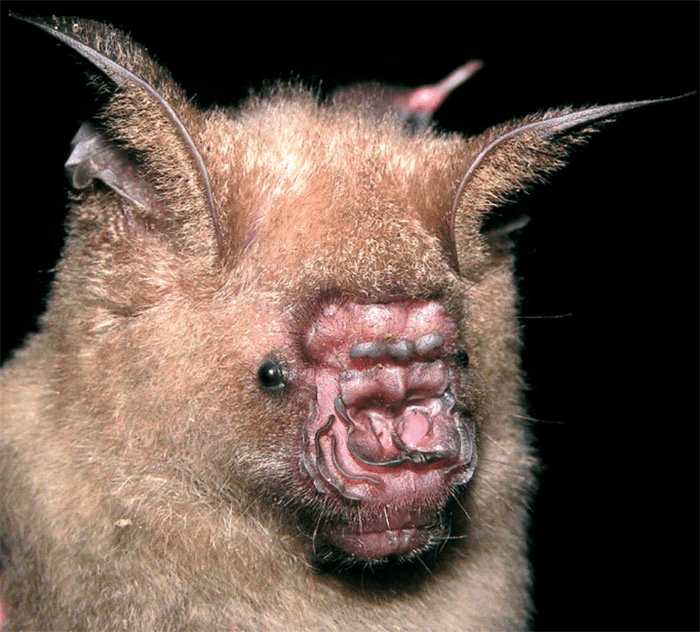 The roundleaf bat of Pendlebury is a huge bat with dark brown hair. It is distinguished by a snout with four lateral leaflets. Its population is believed to number approximately 4,700 bats.
#16 Bats are called Bulldogs.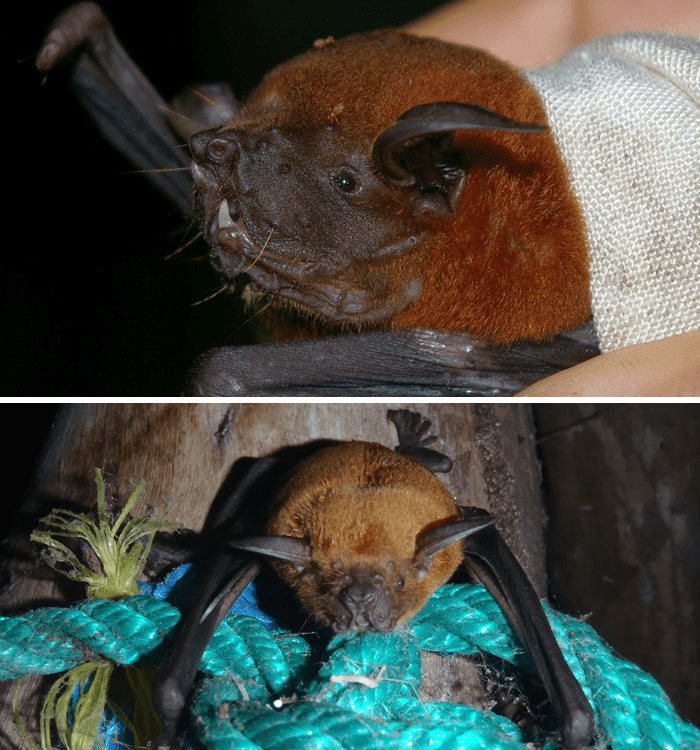 Bulldog bats have an uncanny resemblance to… bulldogs. These dogs' big lips and flat, squarish snouts will undoubtedly remind you of them.
#17 Visored Bat.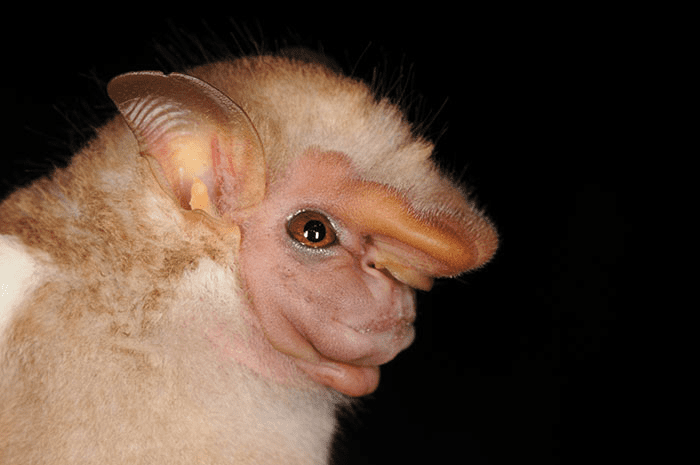 The visored bat gets its name from the "visor" on its brow, which is peculiar to this species. These nocturnal and uncommon bats originate from South America, where just a few specimens have been recovered.
#18 Vampire bats are very common.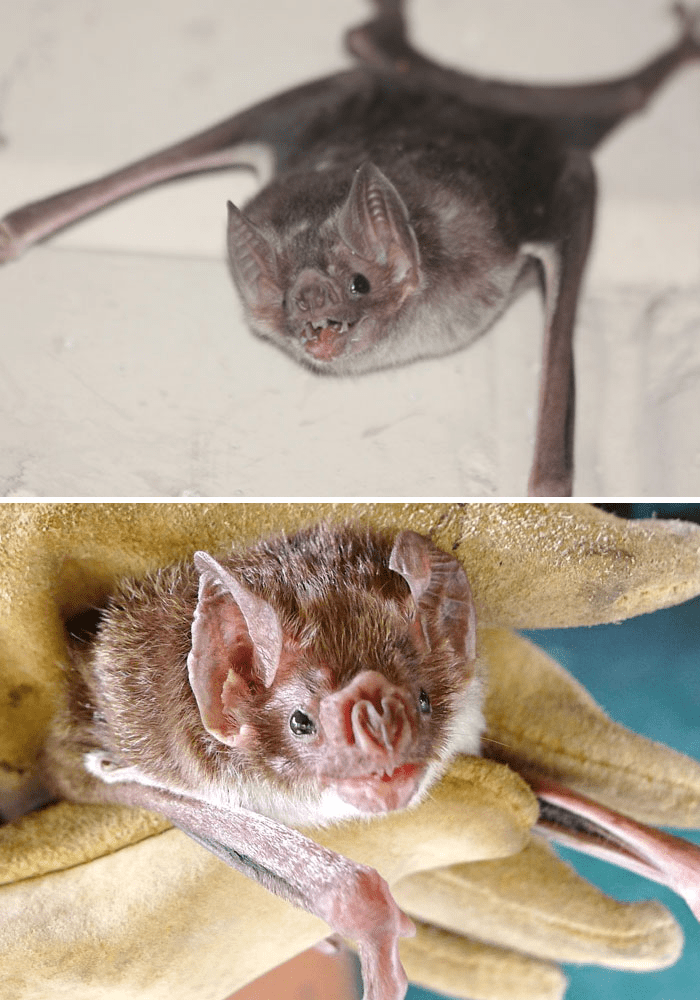 This adorable bloodsucker is known as a common vampire bat. Fortunately, "common" does not indicate "widespread," as these bats can only be found in regions of Mexico, Central America, and South America. Their name, on the other hand, suggests their eating habits. These leaf-nosed bats eat mammalian blood, especially that of animals. While they do not represent a genuine threat to people, it is best not to handle them or visit areas where common vampire bats reside.
#19 Round-Eared White-Throated Bat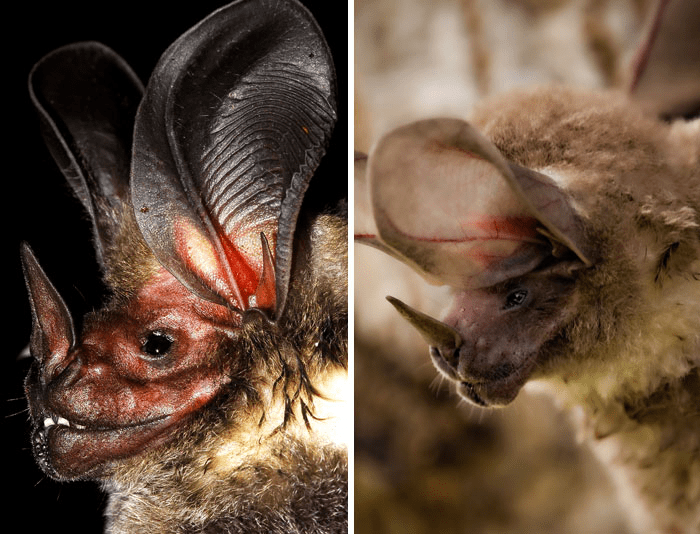 South and Central America are home to the white-throated round-eared bat. It consumes both insects and fruit.
#20 Bats with yellow shoulders.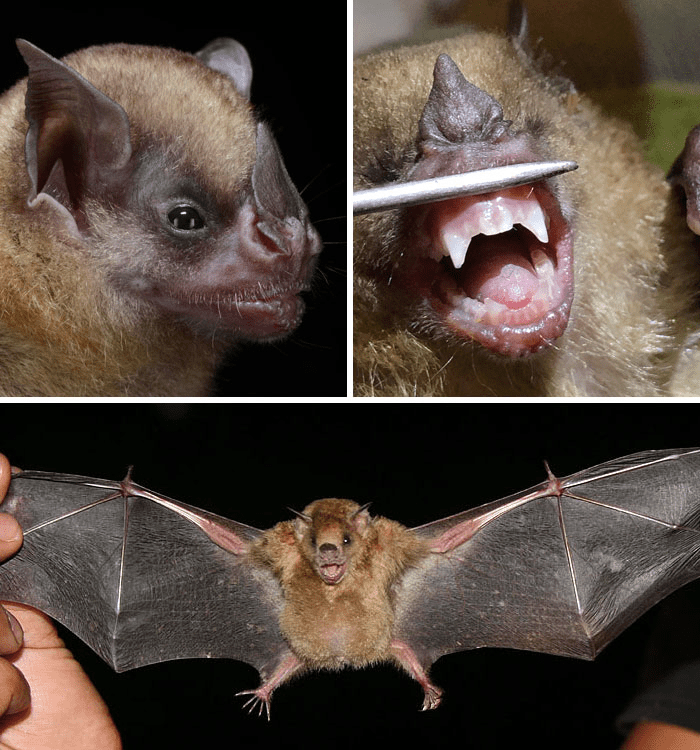 These yellow-shouldered bats are indigenous to North and South America. They prefer to consume fruits and play a crucial role in the spread of tropical plant seeds as well as the pollination of blooming plants.
#21 Vampire Bat with White Wings.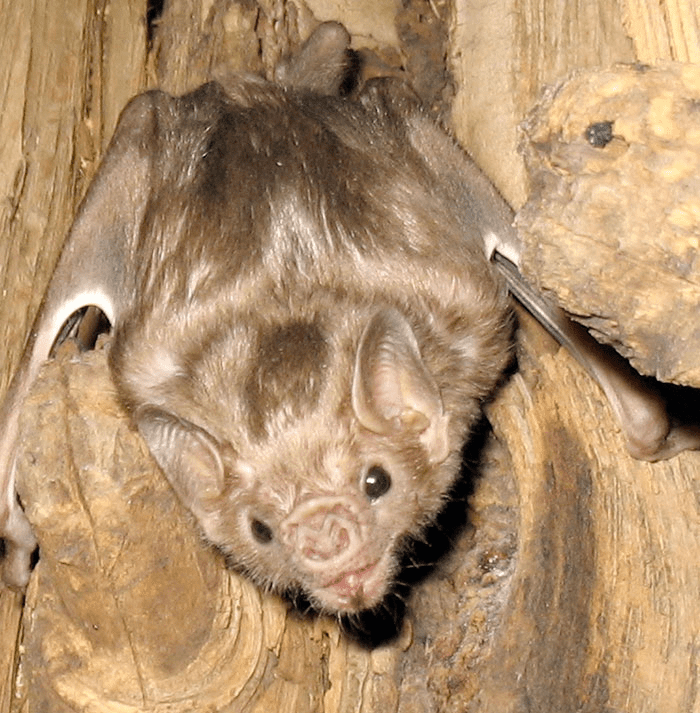 This vampire bat species may be found in South America as well as some parts of North America. While birds are their favorite food, these bats also prey on other animals such as goats, cattle, pigs, and chickens. They use heat sensors in their faces to identify prey.
#22 Round-Eared Pygmy Bat.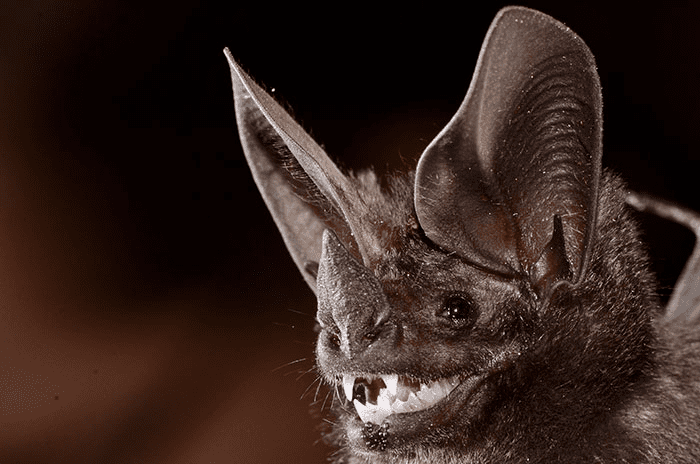 The pygmy bat is an insectivorous bat that occasionally consumes fruit and is endemic to South and Central America. The IUCN lists this moderately common bat as a species of least concern.
#23 Horseshoe Bat, Rufous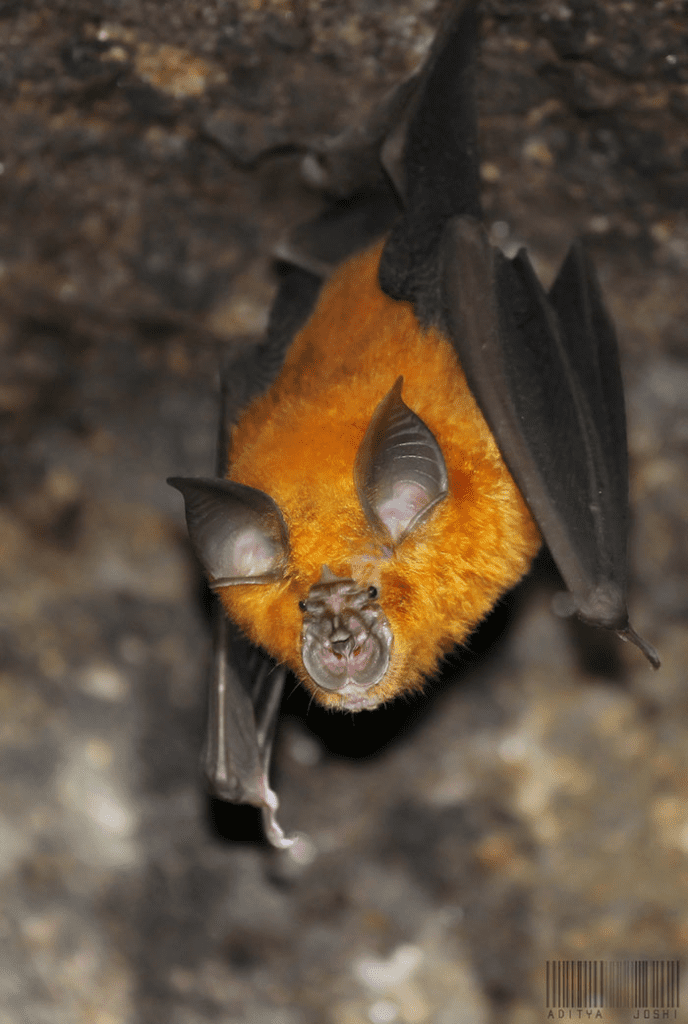 This colorful bat with a leaf-shaped face may be found in China, India, Myanmar, Nepal, Sri Lanka, and Vietnam.
#24 The Ghost-Faced Bat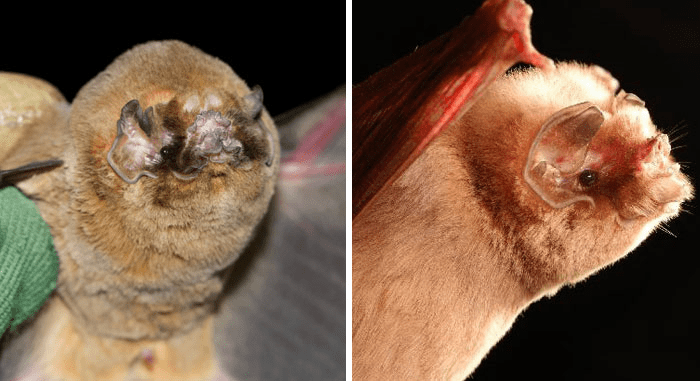 Ghost-faced bats are unpleasant to look upon. To be honest, I'm not sure what's going on with that tiny face. Nonetheless, they are adorable creatures. Southern New Mexico, Texas, Arizona, Mexico, and Central America are all home to these bats.
#25 False Vampire Bat, Greater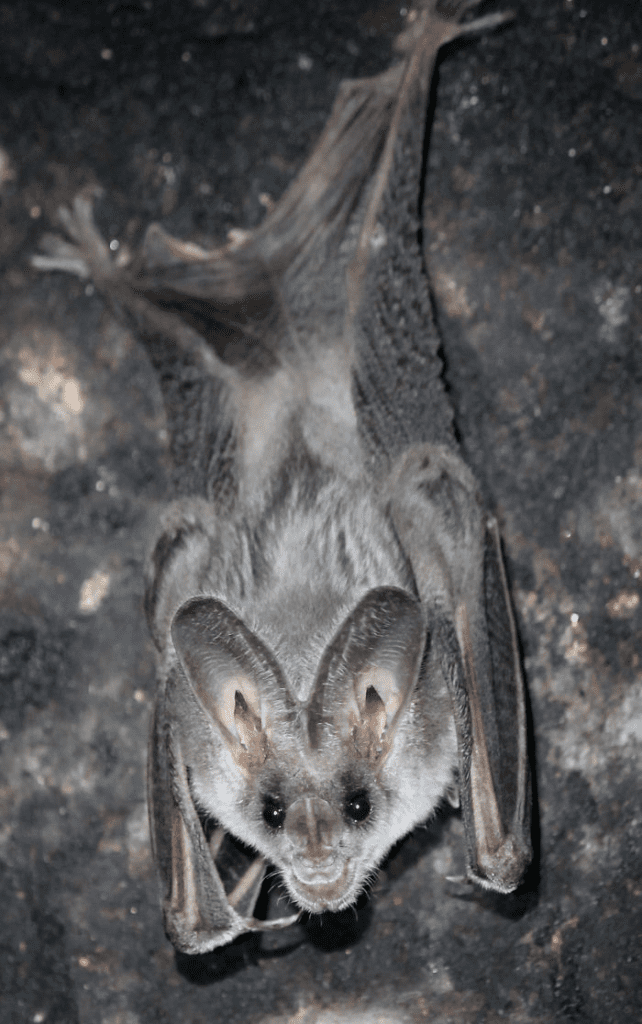 The larger fake vampire bat is a voracious carnivore. It can catch animals on land and in water, hunts from nightfall to daylight, and travels up to 4 kilometers. They like small birds, reptiles, fish, huge insects, and even other bats to eat.
#26 Woolly Bat with Big Ears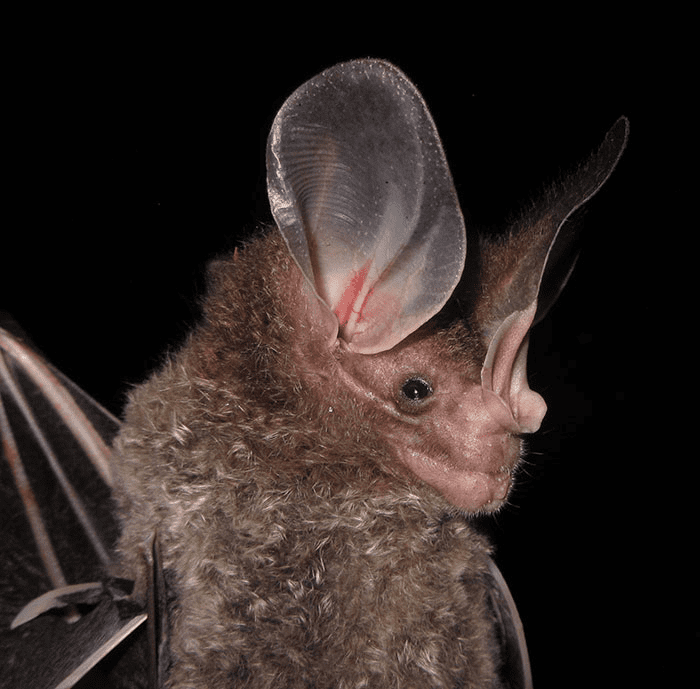 Big-eared woolly bats are relatively huge, with sizes ranging from 100 to 112 mm. These hardworking creatures are believed to aid in seed dispersal and insect population control, reducing the need for pesticide.
#27 The Ghost Bat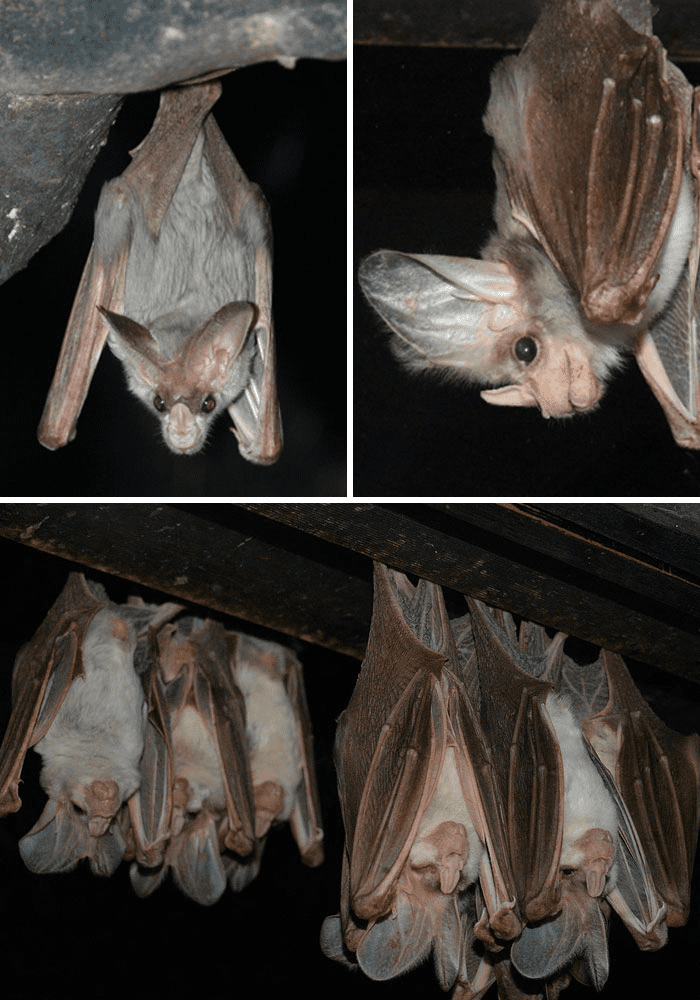 Ghost bats, often known as "fake vampire bats," may be found solely in Australia. They are harmless to humans, no matter how frightening they appear. This species feeds on big animals including birds, reptiles, and mammals. Ghost bats lift their victim off the ground with their wings and kill it with bites to the neck.
#28 Horseshoe Bat, Smaller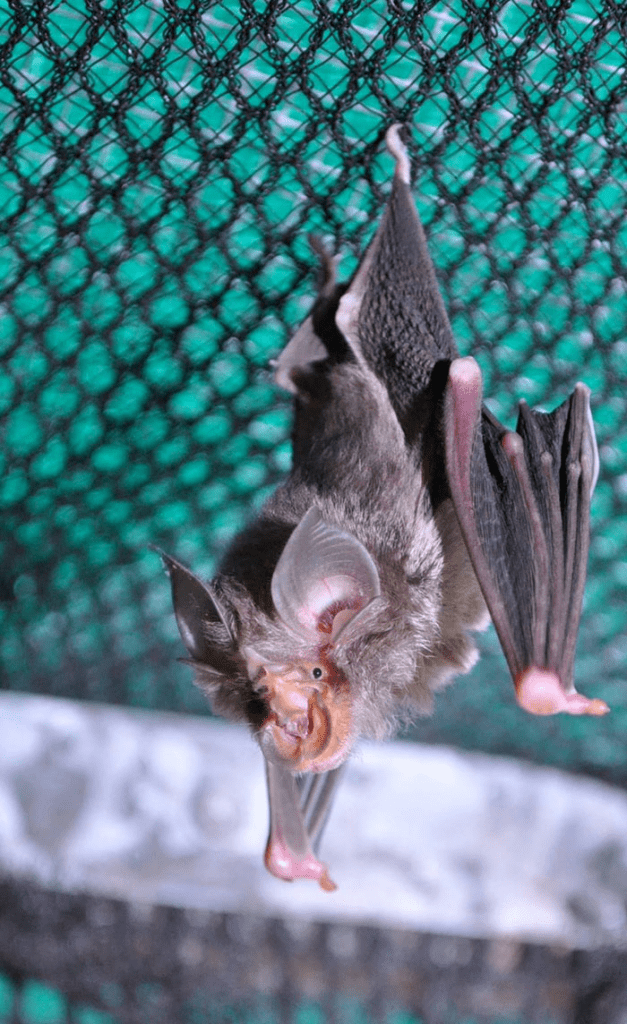 This strange critter is known as a smaller horseshoe bat and may be found in Australia and Papua New Guinea. Horseshoe bats weigh between 7 and 13 grams and measure 44-53 millimeters in length.
#29 Fruit Bat from Jamaica.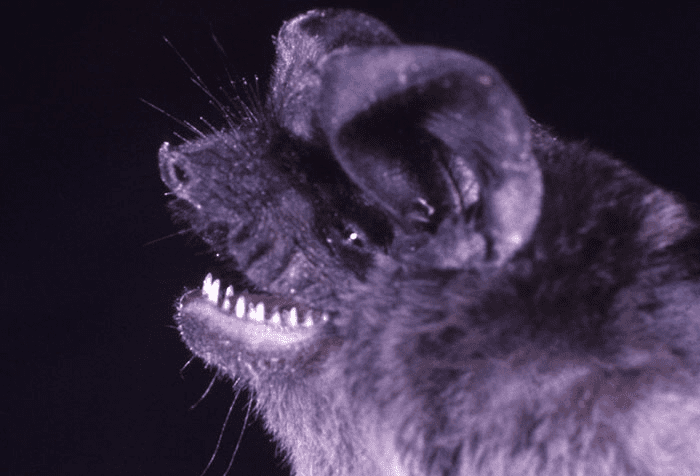 The Jamaican fruit bat is found in Mexico, Central America, and northeastern South America, as well as the Greater and several Lesser Antilles. This medium-sized bat is 78-89 mm long and has no tail.
#30 Smaller Mouse-Tailed Bat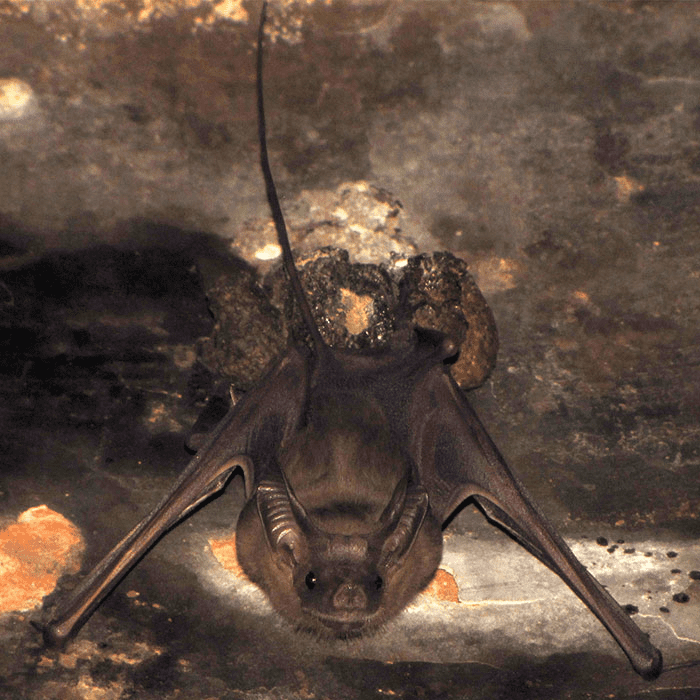 The smaller mouse-tailed bat resembles a mouse, but is much creepier. It has soft hair all over its body except for its face, hind abdomen, and rump. Because this bat favors deserts, it may be found from Thailand westward to Burma, India, Pakistan, and Iran.
Source Credit Bored Panda